DEAR READERS AND RAPTORS, I AM WRITING TO YOU IN ALL CAPS.
Yes, we can see that, Ari. But why?
BECAUSE I AM SO EXCITED TO ANNOUNCE THAT THE ONE-YEAR BLOGIVERSARY FOR A FUZZY MANGO WITH WINGS WILL BE ON MONDAY, JULY 16TH, 2012. A whole year, you guys!
You get the idea.
To celebrate, Fred and I have decided to give away some of the awesome ARCs we got at BEA. We'd love to hang on to them, of course, but since we literally don't have time to read the 50+ books we've acquired since arriving in NY, we're looking forward to finding good homes for a few of them! ARCs are designed to generate publicity/excitement for upcoming books, after all, so we're doing those authors a disservice if we just sit on them until we have time to read them.
And which ARCs are going up for adoption? I've selected a variety of galleys for you to choose from. Three are adult fiction. Six are YA. Five are MG. The genres range from contemporary to historical to dystopian to paranormal to fantasy to science fiction. If you want to find out what the book is about, click on the image of the cover to be linked straight to the book's Amazon page. Rather than put the jacket copy here on the blog, I've opted to post the opening lines from each ARC—of course, these are subject to change because most of these books aren't published yet, but I think it's always nice to get a flavor of the writing. (Any typos/mistakes are mine.)
Without further ado, here we go!
ADULT FICTION
1. THE ELEPHANT KEEPER'S CHILDREN, by Peter Høeg
Opening lines:
I have found a door out of the prison. It opens out onto freedom. I am writing this to show you that door. You might ask how much freedom he thinks he's entitled to, this boy who was born on Finø, the island they call Denmark's Gran Canaria, and in the rectory to boot, with its twelve rooms and a garden as big as a park, and not only that but born into the midst of a father and mother, and older sister and older brother, and grandparents and a great-grandmother, and a dog, all of which sounds like an advert for something expensive but a worthwhile investment for all the family.
2. THE YELLOW BIRDS, by Kevin Powers
Opening lines:
The war tried to kill us in the spring. As grass greened the plains of Nineveh and the weather warmed, we patrolled the low-slung hills beyond the cities and towns. We moved over them and through the tall grass on faith, kneading paths into the windswept growth like pioneers. While we slept, the war rubbed its thousand ribs against the ground in prayer. When we pressed onward through exhaustion, its eyes were white and open in the dark. While we ate, the war fasted, fed by its own deprivation. It made love and gave birth and spread through fire.
3. SOUL THIEF, by Alison Lorimer
Opening lines:
I wish I could convince myself this was a dream. The pain is too much.
The air is hot, sour and almost impossible to breathe. It feel thick and acidic against my tongue, like a gag over my lips. It's only been hours—I think—since they slammed the iron door over the cave-like hole. Sealed in, I fade into the pitch black of my mind and then come back to life again.
Conscious
Unconscious.
Pain.
It feels like a tomb.
YOUNG ADULT FICTION
1. MAGISTERIUM, by Jeff Hirsch
Opening lines:
Glenn followed the hum of machinery out to the edge of the forest.
"Dad! Dinner"
Balancing a tray in her hands, and her tablet under one arm, Glenn eased around a patch of snow stained blue from the lights of the generator that powered her father's workshop.
Workshop was a grand term for what Dad had built in the back corner of their yard. Glenn had tried to tell him he should fab it—they had the money when he first built it. He said you couldn't let machines do everything for you; sometimes you had to use your own two hands. Of course, what his own two hands got him was a leaky roof and walls that twisted to one side as if they were caught in a perpetual hurricane.
2. A SOLDIER'S SECRET, by Marissa Moss
Opening lines:
"Just a minute there." The recruiter stops me as I lean over to dip the pen in ink. "You can't enlist."
I freeze. Can he tell? I'm wearing a shirt, vest, and trousers as usual, my curly hair cut short except for a lock that insists on falling over my forehead. I brush it away nervously to meet the man's eyes. I've been passing for nearly three years now, but every new encounter still brings with it the same fear. I take nothing for granted. The key thing, I remind myself, is not to reveal anything, to act as normal as possible.
"I beg your pardon," I say as if I haven't heard him clearly. I keep my voice calm and low, pushing down the panic that's bubbling up inside of me.
3. ORIGIN, by Jessica Khoury
I'm told that the day I was born, Uncle Paolo held me against his white lab coat and whispered, "She is perfect." Sixteen years later, they're still repeating the word. Every day I hear it, from the scientists of the guards, from my mother or from my Aunt Brigid. Perfect.
They say other things too. That there are no others like me, at least not yet. That I am the pinnacle of mankind, a goddess born of mortal flesh. You are immortal, Pia, and you are perfect, they say.
4. BEAUTIFUL LIES, by Jessica Warman
Opening lines:
It's one of those cool, crisp fall nights that make you feel like the air is ripe with possibility, like anything could happen. From where we stand on the jogging trail, my sister and I can see the whole city stretching out around us. On the farthest end, all the way across town, there is a dusk-lit celebration taking place, a huge tent holding overlapping threads of bodies, the sounds of their voices carrying across the wind, all the way to us.
"Ah. Oktoberfest at the Yellow Moon," she says to me, squinting, standing on tiptoes in her scuffed ballet flats, like if she stares at the party long enough she might absorb some of the excitement, which feels almost electric as it seeps from the crowd.
5. FALLING KINGDOMS, by Morgan Rhodes
Opening lines:
She'd never killed before tonight.
"Stay back," her sister hissed.
Jana pressed against the stone wall of the villa. She searched the shadows that surrounded them, briefly looking up at the stars bright as diamonds against the black sky.
Squeezing her eyes shut, she prayed to the ancient sorceress. Please, Eva, give me the magic I need to find her.
When she opened her eyes, fear shot through her. On the branch of a tree a dozen paces away sat a golden hawk.
"They're watching us," she whispered. "They know what we've done."
Sabina flicked a glance at the hawk. "We need to move. Now. There's no time to waste."
6. BREATHE, by Sarah Crossan
Opening lines:
Breathing is a right, not a privilege, so I'm stealing it back. I'm nervous, but I'm not scared. This is the mission I've been training for. I'm ready to lead.
I squeeze Abel's hand and he looks at me. "Now?" he asks. He puts his other hand into his pocket.
"No, no. Not yet," I whisper. Several cameras are trained right at us and there's a steward only meters away. I pull Abel close and nuzzle his neck. We aren't a couple, but posing as one makes us less conspicuous.
"So tell me when," Abel says.
MIDDLE GRADE FICTION
1. CAPTAIN UNDERPANTS AND THE TERRIFYING RETURN OF TIPPY TINKLETROUSERS, by Dav Pilkey
Opening lines:
This is George Beard and Harold Hutchins. George is the kid on the right with the tie and the flat-top. Harold is the one on the left with the T-shirt and the bad haircut. Remember that now.
When our last adventure ended, George and Harold were being escorted to jail. The police had discovered surveillance photos showing the two boys robbing a bank with Captain Underpants. Of course, we all know that Geroge, Harold, and Captain Underpants were innocent. It was their evil twins who had robbed that bank. But the police hadn't bothered to read the last book, so they really didn't know what was going on.
2. SHADOW ON THE MOUNTAIN, by Margi Preus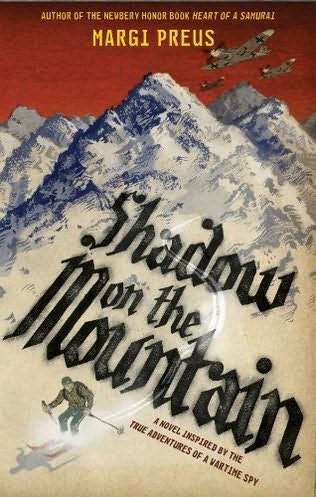 Opening lines:
Against the blue-black mountains, Espen's bicycle was just a tiny moving speck. Far below the road, the river pulsed and rushed, swollen with rain and snowmelt. The sun had long ago slipped away, leaving just a thin fringe of light glimmering along the ragged edge of the western mountains. The dangerous time of day, his grandmother would have said, the time of day the trolls come out.
3. GODS AND WARRIORS, by Michelle Paver
Opening lines:
The shaft of the arrow was black and fletched with crow feathers, but Hylas couldn't see the head because it was buried in his arm.
Clutching it to stop it wobbling, he scrambled down the slope. No time to pull it out. The black warriors could be anywhere.
He was ragingly thirsty and so tired he couldn't think straight. The Sun beat down on him and the thorn scrub gave no cover; he felt horribly exposed. But even worse was the worry over Issi, and the aching disbelief about Scram.
4. FLYING THE DRAGON, by Natalie Dias Lorenzi
Opening lines:
Skye had known something was coming. The way her dad had been acting lately was beyond his normal weirdness. She just never guessed the something coming would be a bunch of Japanese relatives she'd never met.
The first sign of trouble was when her dad switched from silverware to chopsticks. Maybe she shouldn't have been surprised. After all, her dad was Japanese. Sort of. He'd been born and raised in Japan but hadn't been back since he married her mom. To Skye he was pretty much American. And since Virginia is about as far away from Japan as you can get, Skye didn't blame herself for forgetting that she was half Japanese herself.
5. STEALING AIR, by Trent Reedy
Opening lines: 
"Great success through great risk," Brian whispered as he jumped his skateboard off the curb. There were over half a dozen kids carving tricks at the skate pack just ahead of him. Brian didn't know any of them, but since tomorrow would be his first day at a new school, he might as well do something to start making friends. He stomped the tail of his skateboard to ollie it onto the sidewalk.
SO:
THE RULES
The giveaway is a drawing. To enter, you need to do the following:
1. Comment on this post and indicate which of the ARCs you'd be interested in winning (please include at least two or three options, in case your first choice isn't available). Your comment earns you one entry in the drawing.
2. Make sure you comment using a valid email address so I can contact you if you win!
Ah, but there's more! See, you can earn EXTRA entries if you do any of the following:
Subscribe to A Fuzzy Mango With Wings (*points to the top of the right-hand sidebar*) or follow on Google Reader, then mention it in your comment (I don't have a way to verify the latter, so I'm trusting you guys to be honest). + 1 entry
If you're on Twitter, tweet about the contest (please include a link to your tweet in the comments section—here's how) + 1 entry
If you're on Goodreads, add at least one of these books to your To-Read list (again, please include a link in the comments) + 2 entries
If you have a blog, blog about the contest (again, please include a link to your blog post in the comments) + 3 entries
The contest is open until 11:59 PM PST on July 16, 2012.
THREE WINNERS will be selected randomly by
Random.org
and will get one of the ARCs they listed (hopefully there's enough diversity of choice that it'll all work out). I'll announce the winners sometime next week! The contest is open to anyone in North America or possssssibly Europe (my bank account permitting—I'll let you know).
WOO! Good luck, everyone!